Saturday, July 8
cont: dad's brithday and more..
1:08 am
back to more updates.
so after the portugal match.. meiting stayed over my place. we talked till abt 6 am cos we were both couldnt sleep. we were feeling very sticky and hot even though my air con was on.. the powerful aircon aint powerful anymore. sigh. i think it is the july heatwave. its like extremely hot these few days lah.. blazing hot afternoons. for the past few days, i was trying to save as much on transportation by walking to my destinations. the price to pay in saving? (what an oxymoronic question..) extra tan, hopefully lost of weight and very bad backaches... sigh sigh..
anyway, we both slept till 4pm and i was forced to wake up cos i had tuition at 5pm. had another combined tuition. my kids were like " erm jayne, so are u in a good mood?". hate that question. i know the tricks of a students. their chem results were out and werent good at all. then, i stopped to wonder.. was it me? am i really helping them in their studies? double sigh. i guess tuition shld be more focused.. no more combined tuitions unless necessary!
so met my parents at j8 for dinner cos it was my dad's birthday. it's been a while since we had dinner together. but its funny, my brother is not there with us. anyway, kor called back and he is in melbourne now enjoying his butts off. im actually glad that he is enjoying himself; he is finally making full use of studying overseas! dad said kor kor sounded happier and more vibrant and i cant help but to agree with him. my brother finally is normal. i hope he doesnt coop up at home when he comes back. anyway, i got him to buy me a swatch skin watch from aussie.. hope he remembers.. i need a watch. and if my brother buys me one, i will not complain of the non-exisitence of my brother. :)
today. was doing alot of money transactions. was at the bank transferring, withdrawing and changing my atm card. thank God i had james seow to accompany me on the phone though most of the time we were talking abt bidding. the pains of an university undergrad. bidding and timetable. had to go rush down to school for some training. but by the time i reached, it was over! according to hailong, he learnt nothing. we were conned to attend some useless training!! :( so we went to look for LN and scolded him in german ( german, my new fetish.. and hailong's too.. haha) after lunch, we cooped ourselves in the campus radio studio and were trying to solve some sudoku puzzles. i used to think that sudoku are for geeks.. but i realised, suduko is the only thing that is preventing my brain from decomposition due to brain inactivity.
then, met fangwei to watch a movie called " thank you for smoking". U MUST WATCH THIS SHOW. after watching the show, i thank God for such thing called AS (analytical skills). hahaha so many fallacies lah.. but its darn funny. it is a kudos-must watch movie.
Then met chieh, felicia and boyfriend and fish for dinner. lets see, had dinner in taka.. den walked to heeren to shop around. den felt bored and decided to have tao huay.. at rocher. so we WALKED from heeren to rocher taohuay store just to eat 60 cents worth of taohuay at a back alley with many hugh rubbish bins. worth it? definitely. rocher tao huay rocks... plus i lost some weight on the way.. haha. im through walking. gonna be sitting on coaches for the next 7 days in taiwan. anyways, going to taiwan on sunday after leading worship. but bringing my lappy along. so i think might be posting some blogs if THERE ARE WIRELESS CONNECTIONS at the hotels.. meanwhile.. pictures from mamboo...
ting, iona and me @ zouk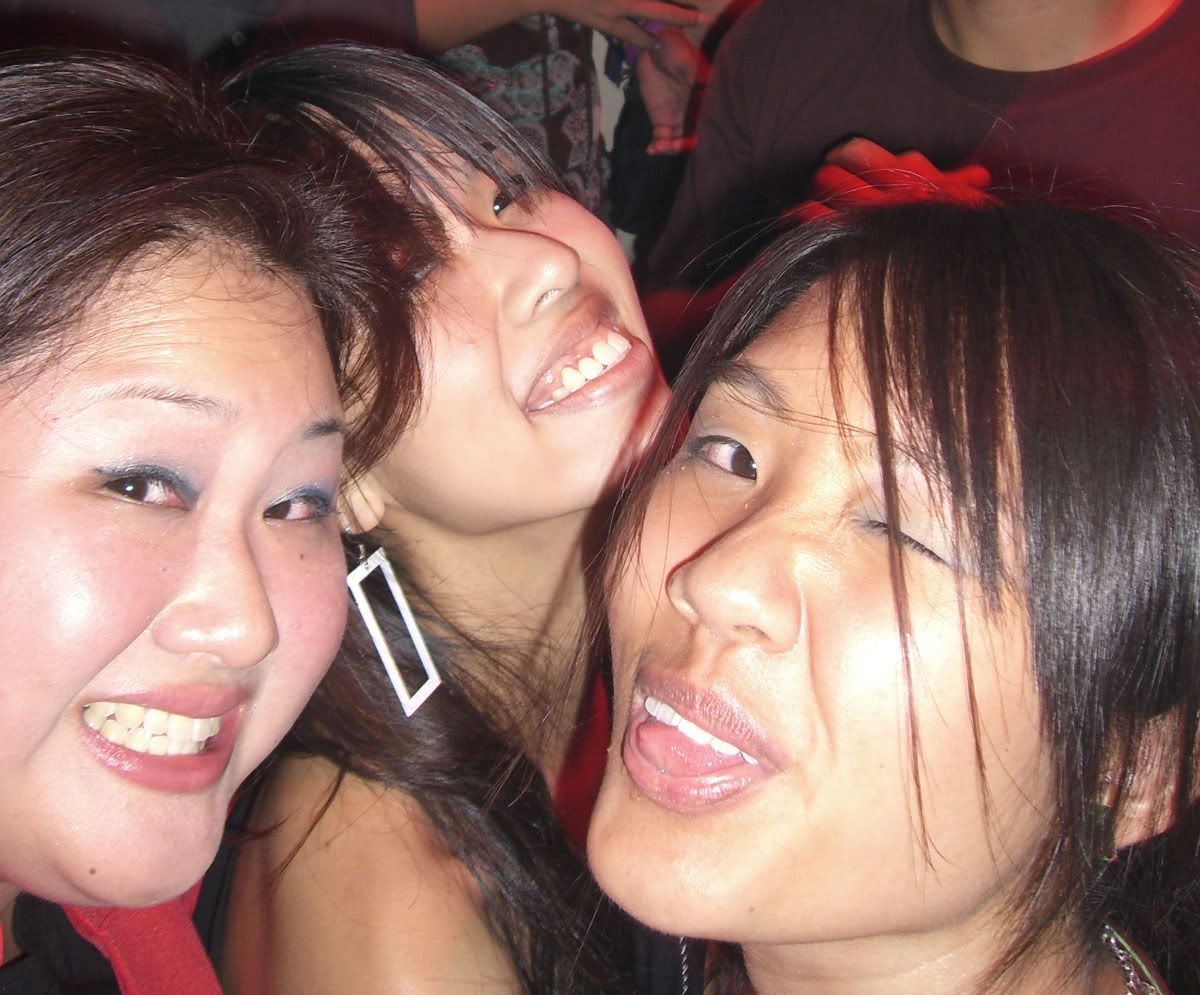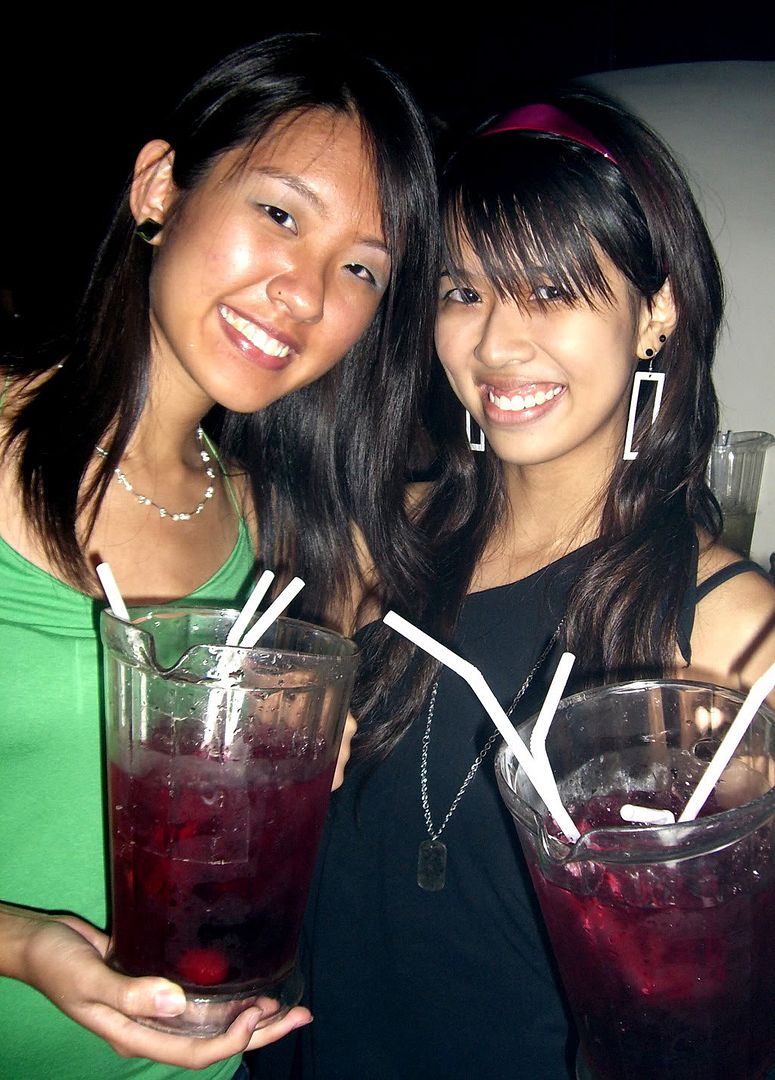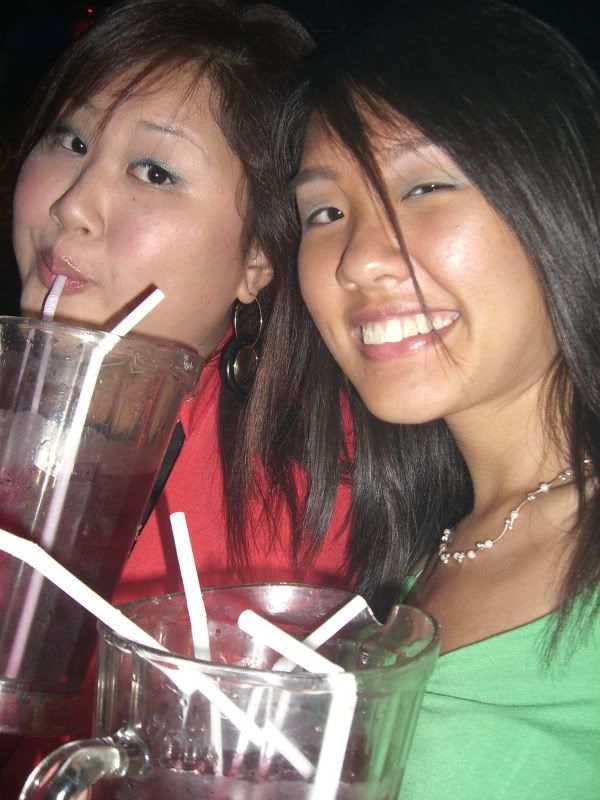 many ribena volkas... well only 2 jugs of diluted ones..
at the toilet.. hahaha