Saturday, July 22
saturday evening..
7:56 pm
it's 7pm on a saturday and im now in the SMUBE studio.
this studio rocks; it has nice equipment, conducive environment. 100% pure chilling out place.. from work, momentarily. im blasting music in the studio now and it sounds good. shiok. hmm, im supposed to import songs to the system but darn, its very relaxing.
countdowns:
26 more days to convocation.
im scared actually. i havent really have much clue on my job scope. command post.. just pray i wun cry on that day man.
28 more days to the start of VPH.
great, and i dont have any proposal out yet.
i shld stop slacking. maybe i shldnt be so active in BE suddenly.. hehh
Thursday, July 20
reflections on taiwan
12:57 am
im back in singapore.
Braved through a typhoon. hmm ok, more like played through a typhoon. we even dipped ourselves in open hot springs in the midst of the typhoon. watched a 10 bucks movie at gaoxiong which is totally not worth it cos the cinema is not that good. ate alot such that Vik said i looked fatter.
Ich bin gross
. love papaya milk and honey bittergourd tea and their chewy pearls. love their instant noodles. totally went gaga over beef noodles, mango milk ice, xian shu ji (deep fried assortments of chicken skin, chicken meat, sweet potato etc...) and or-luat. had a bad constipation such that i had to take laxative every 3 days. i love the hotels cos i have a huge bed, pillows and comfy comforter/blanket to myself. love the fact that i need not use my brain much and can slack as much as possible. love the people - they get very facinated when u speak english.
hate the tour cos it was quite a waste of money. hate the shopping cos the fashion there is very jap-ish. hate the idea that we had to wake up at 6am everymorning. hate the travelling for 3 hrs to a place to take photos for only 15 minutes. hate the fact that we have to change hotels every day. hate chou tofu cos it smells like taiwan toilets. ESPECIALLY hate chou tofu when we were at tofu street where the rule is: the smeller the tofu, the tastier it is. i nearly died.
impressed that the guys are direction-less despite going through army and i had to be the compass.
impressed that i spoke mandarin.
Monday, July 10
taiwan: day 1 & 2
9:39 pm
reached taiwan at around 7.40pm last night. we took china airlines to taipei and i was really praying that i will be alive when i reached taiwan. one thing i hate abt the flight? it is darn violent flight and it made liping's and my motion sickness worse. it was like a roller coaster ride i feel.. thank goodness china airlines has, surprisingly, VERY NICE FOOD! chicken noodle plus ham salad and fruits and..... tiramisu!!! gain weight again.. haiz.. oh and .. do you know their TV is like.. touch-screen types???!!! so high tech! watched 16 blocks, CSI, japan hour on the plane and intend to leave "take the lead" for the return trip.. hahahahhaa..
anyway, we had ma-la huo guo for dinner and it was kinda ok. nice thing abt dinner? the thinly sliced beef and pork. my gosh. my gosh. my gosh. like kobe beef!!! but then, i didnt really had the ma-la part cos was having a sore throat. why everytime i go overseas, i would have sore throat??!! irritating. so anyway, we stayed over at this golf resort with very neat rooms and huge beds. the bed for one person is like slightly smaller than a queen size bed!! damn shiok lah... but didnt sleep at the room. liping and i went over to the guys room to watch soccer but i ended up sleeping there, waking up occassionally to see france lose! :) supposed to drink beer.. like TAIWAN BEER... but haiz sore throat tammed me last night. so im yet to taste TAIWAN BEER.. TAIWAN BEER.. sounds like BINTANG BEER those sorts.. hahaha..
so today, we need alot of travelling on the coached. i think we drove abt 6 hours at least by the coastal areas of taiwan. from taipei to jiufen to hualian. went to watch this cultural dance thing at hualian. desmond and i were pulled to join into this wedding ritual dance thing. poor desmond, had to carry me on his back.. hahaa.. but it was quite funny cos before that, they made us knee down whule they hit our butts with some leaves.. i wanna complain. sexual harassment.. hahahaha. but it is a total tourist attraction rip off. made us buy the photo in a ceremic frame for NT 400 bucks = S$ 20. sianed out man.
other than that, not much highlights on the trip other than we are now staying at this 5 star hotel with damn good service. good-looking hotel receptionists too.. ahaha. oh and we had a decent buffet dinner. why decent? becos our it was the best meal we had so far. for lunch, we went to this seafood restaurant with the promise of lobsters and abalone. yah. lobster and abalone they served, alright. but please lah, we each had 2 mini slices of abalone and a few flakes of lobster meat. i was better off eating the cabbage that came along with it...
improper misrepresentation.
(issit called like that in biz law?)
hope tmr is better, although we are going to travel alot again. but at least we will end up in gaoxiong.. :) SHOPPING!!!!
Saturday, July 8
cont: dad's brithday and more..
1:08 am
back to more updates.
so after the portugal match.. meiting stayed over my place. we talked till abt 6 am cos we were both couldnt sleep. we were feeling very sticky and hot even though my air con was on.. the powerful aircon aint powerful anymore. sigh. i think it is the july heatwave. its like extremely hot these few days lah.. blazing hot afternoons. for the past few days, i was trying to save as much on transportation by walking to my destinations. the price to pay in saving? (what an oxymoronic question..) extra tan, hopefully lost of weight and very bad backaches... sigh sigh..
anyway, we both slept till 4pm and i was forced to wake up cos i had tuition at 5pm. had another combined tuition. my kids were like " erm jayne, so are u in a good mood?". hate that question. i know the tricks of a students. their chem results were out and werent good at all. then, i stopped to wonder.. was it me? am i really helping them in their studies? double sigh. i guess tuition shld be more focused.. no more combined tuitions unless necessary!
so met my parents at j8 for dinner cos it was my dad's birthday. it's been a while since we had dinner together. but its funny, my brother is not there with us. anyway, kor called back and he is in melbourne now enjoying his butts off. im actually glad that he is enjoying himself; he is finally making full use of studying overseas! dad said kor kor sounded happier and more vibrant and i cant help but to agree with him. my brother finally is normal. i hope he doesnt coop up at home when he comes back. anyway, i got him to buy me a swatch skin watch from aussie.. hope he remembers.. i need a watch. and if my brother buys me one, i will not complain of the non-exisitence of my brother. :)
today. was doing alot of money transactions. was at the bank transferring, withdrawing and changing my atm card. thank God i had james seow to accompany me on the phone though most of the time we were talking abt bidding. the pains of an university undergrad. bidding and timetable. had to go rush down to school for some training. but by the time i reached, it was over! according to hailong, he learnt nothing. we were conned to attend some useless training!! :( so we went to look for LN and scolded him in german ( german, my new fetish.. and hailong's too.. haha) after lunch, we cooped ourselves in the campus radio studio and were trying to solve some sudoku puzzles. i used to think that sudoku are for geeks.. but i realised, suduko is the only thing that is preventing my brain from decomposition due to brain inactivity.
then, met fangwei to watch a movie called " thank you for smoking". U MUST WATCH THIS SHOW. after watching the show, i thank God for such thing called AS (analytical skills). hahaha so many fallacies lah.. but its darn funny. it is a kudos-must watch movie.
Then met chieh, felicia and boyfriend and fish for dinner. lets see, had dinner in taka.. den walked to heeren to shop around. den felt bored and decided to have tao huay.. at rocher. so we WALKED from heeren to rocher taohuay store just to eat 60 cents worth of taohuay at a back alley with many hugh rubbish bins. worth it? definitely. rocher tao huay rocks... plus i lost some weight on the way.. haha. im through walking. gonna be sitting on coaches for the next 7 days in taiwan. anyways, going to taiwan on sunday after leading worship. but bringing my lappy along. so i think might be posting some blogs if THERE ARE WIRELESS CONNECTIONS at the hotels.. meanwhile.. pictures from mamboo...
ting, iona and me @ zouk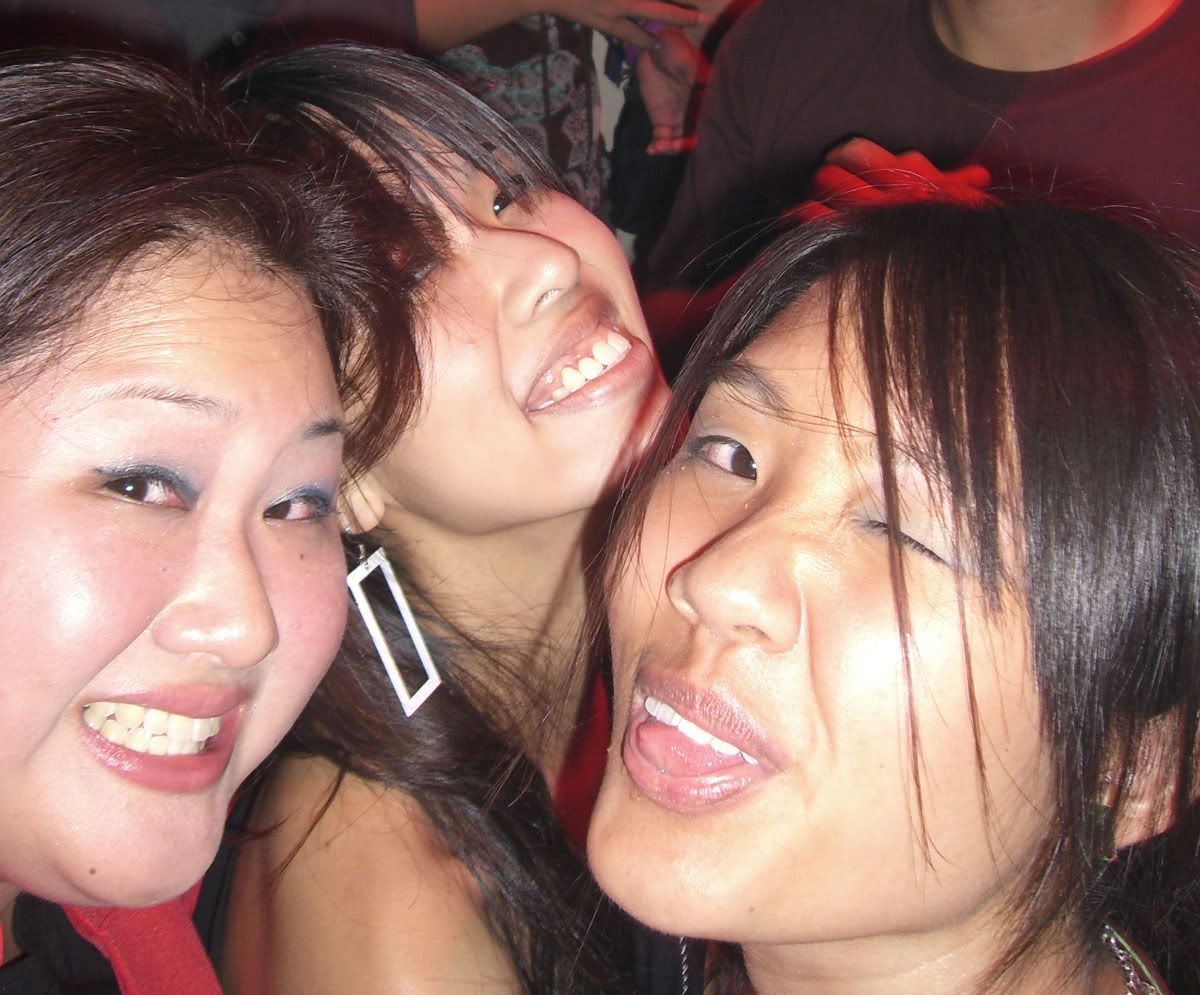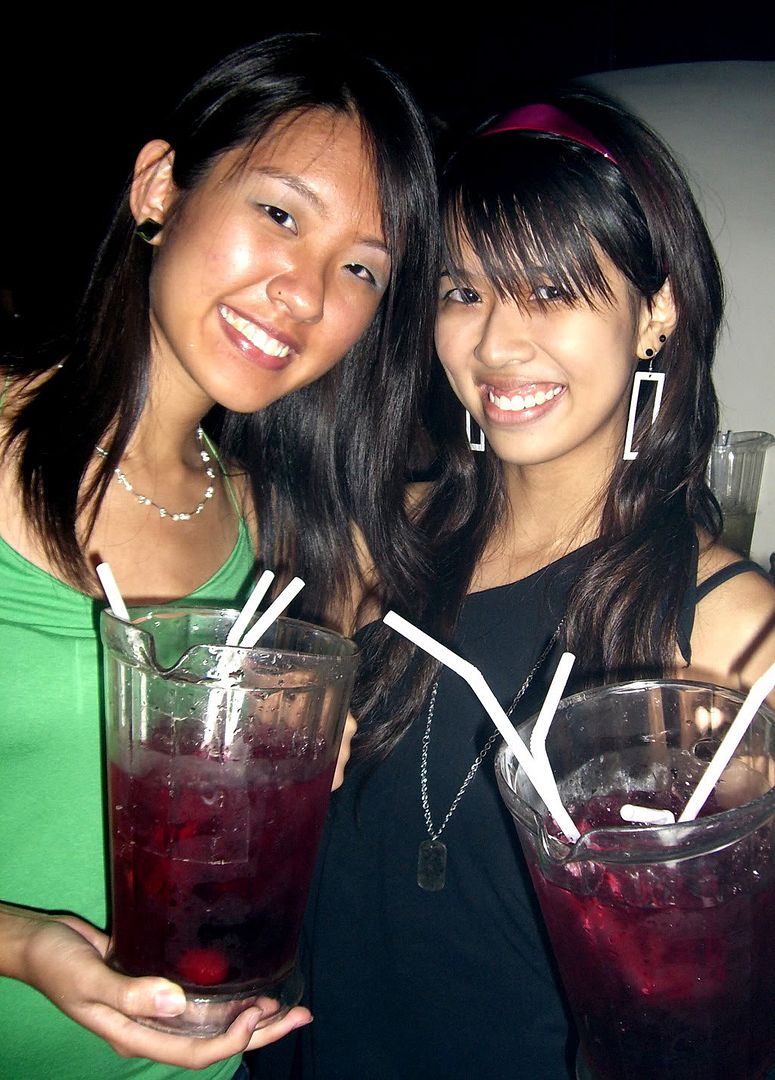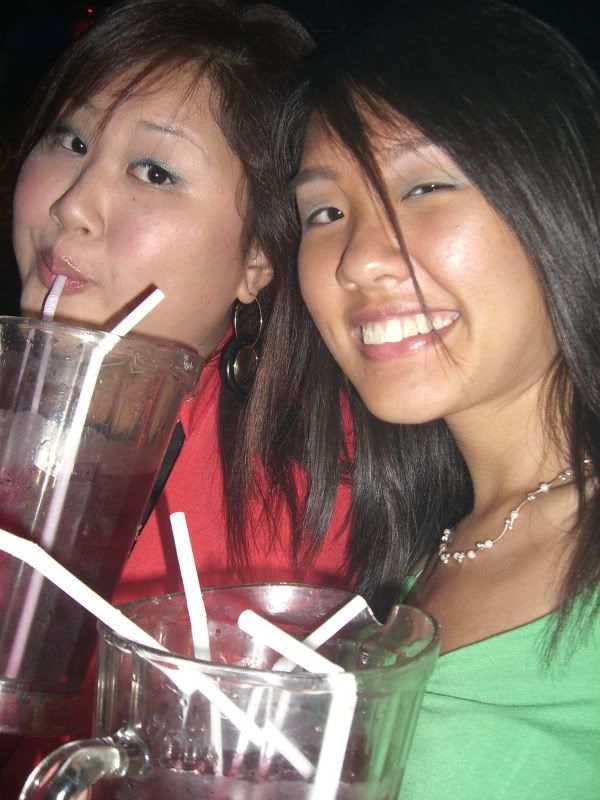 many ribena volkas... well only 2 jugs of diluted ones..
at the toilet.. hahaha
Friday, July 7
dad's birthday and more..
12:40 am
hi. im back. i don't miss bloggin but hmm. just need to type things out so that i won't forget?
okie. updates updates. ended work (finally!!) last friday. my colleagues were damn sweet lah. they bought me this damn expensive lipgloss from stila! i wanted those but never had the heart to pay 40 bucks for a lipgloss! i don't know how they know that i wanted those but.. YAh!!! thank you so much, yiting, weihong, joanne, kath and scarlett!! :) so although everyone was damn busy that day, i had nothing much to do. couldnt help much either. so i ordered some elf makeup from US for my colleagues and emailed peiling to help us buy them. oh peiling, *envy* must be enjoying herself there now.
had 3 straight mornings of driving lessons. drove on the main road in toapayoh. my driving instructor was like.." why u cannot pull the handbrake? never eat rice issit? if u dont know den how to drive....?" i kinda promise u guys, the bloody handbrake was jammed!! and my wrist was a little sprained last thursday! not my fault wad.. anyway. i drove home after lesson but nearly caused an accident cos i didnt know when to change gear at a turn. bad hands and feet coordination. so there u go.. 100 bucks flying away from on wednesday.
so monday and tuesday were shopping and walking days. hmm didnt buy much though. met my yd-mates for lunch on monday.. and we walked from raffles place.. around raffles place.. to esplanade for a drink at the library. den we walked to city hall and amanda left. den nicole and i walked to smu to wait for *ah-hem*. while waiting, meiting came and i left with her to go to funan to look at laptops. i tell u, im very very fixed in getting an ASUS laptop. only thing is.. it's too ex for an ASUS.. shall wait for the school's tenders to sell their laptops, i guess. den we walked a big round to go to pennisular plaza for eye brow threading. the lady accidentally cut my eye lid.!!!!!!! hai, the price of beauty..$6 and a cut on the eye brow. she still said" aiyah girl, long time never come and thread ur eye brow, right??" argh. after that, we walked to marina square to meet iona chew for more shopping.. and dinner of cos. at the end of the day, i think i lost one kg of fats......
tuesday. met meiting for more shopping after driving. we met at city hall.. went to pennisular plaza (again!!) to print some stuff on her pink shirt. ting is damn funny; she printed " I HATE PINK. DON'T ASK ME WHY" on a pink shirt. can't wait to see her in the shirt though. after that, we walked to bugis for more shopping.. walk walk walk... and ate at bugis street cafe. good and cheap. u guys shld go man.. the brownies are better than mine (sobs). den we walked back to pennisular plaza to collect her shirt, walked thru smu to paradiz centre for her dental appointment.. and she bought a piano keyboard thing there and we took a bus back to serangoon. i tell u, the bus trip is freaky. there was this guy who was asking us where we bought the keyboard thing.. your name and school. so irritating. i was giving this "please dont bother us" attitude but meiting was alittle kinda enough to answer his questions. the final show down came when he asked for our number and i was like " sorry, i dont feel comfortable giving my number to strangers".. den he was like "oh.. okie.. " and meiting and i was like, finally he shut up. so i went to church to for yw rehearsal while meiting was carrying the keyboard and waiting for joe.
wednesday. had my first german class at pennisular plaza with some of the convoc teammates(again!!.. why does the building have a weird distinct pungent smell!!!!). GERMAN IS DAMN DIFFICULT!! but german is good language to scold people. take for example.. in the lift, i told ford:
Du bist dick & gross. (you are fat and big)
shite, im dead in convocation. kidding ford!!!!!!!!!!!!! german overcame me.. dick and gross.. what german words... hahaha DICK and GROSS!!! probably this is the only sentence i remember very well and articulate pretty fluently.. ahahhaa
den met suzi in school to discuss abt boss bidding.. i realised, even though we settled on our timetable, it is still up to the bidding to confirm the timetable. there is a 70% chance that we have to change our timetable next week. shite, and i will be in taiwan during bidding!!! anyway, suzi did my makeup cos i was going clubbing with meiting and iona chew later. i think suzi is natural make-up artist. she is damn power and pro.. suzi, if we totally hate econs and finance, wanna study makeup together? hahhaa
so met iona and ting for mambo and i think that was the best mambo session i had since after exams. probably because it's meiting maiden mambo try and iona have not gone clubbing for 1 year plus and all of us are absolutely crazy and a wee bit high thanks to ribena volka. saw christine there!!darn, it would be better if the council clubbing people were there too! anyway, 3 am came and meiting and i had to rush to my place to catch the portugal vs france game. was kinda sad that i didnt get to dance my fav retro song.. :( i'm dying inside.. to hear the song!!
let's not talk abt the portugal vs france match. all in all, im so not watching the world cup finals, i hate france and i wish the next world cup comes fast so that portugal will kick france out fast!!
France ist doof ein Affen! (France is stupid monkey.)
due to my limited german vocab,this is the best i can describe France now... argh!